Project Update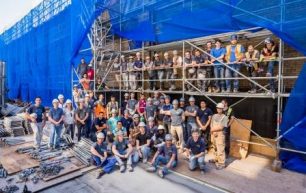 East Wall
Pinning of brick work and window replacement have been completed. Cast stone removal and shelf angle removal/new installation continue in a systematic approach moving northbound. We anticipate the work on the East wall to be completed by February 2018.
North Wall
Pressure washing and pinning of brick work have been completed. Shelf angle, cast stone repairs and window replacement has commenced. We anticipate the work on the North wall to completed by mid-summer 2018.
South and West Wall 
The South and West walls have been completed.
Background
Harbour Centre Complex Limited embarked on a project to conserve the historic Spencer Building during the summer of 2016.
A trial repair revealed that age, weather, and corrosion had taken a significant toll on the building. The cast stone, brick masonry, stucco, and windows were showing varying degrees of damage and were in need of attention in order to preserve the long-term performance of the building and improve tenant comfort.
About the Building
The building was constructed in 1926 and was designed by McCarter & Nairne, architects of the Marine Building. To coincide with the Spencer Building's 90th Anniversary, Harbour Centre is investing in an ambitious conservation project to ensure that this significant heritage building can be enjoyed for generations to come.
About the Project
As part of the project, the building's exterior is being refurbished. On the south, east, and north sides of the building, the exterior brick masonry, cast stone, and windows are being inspected and restored, rehabilitated, or replaced as required. A proactive rainscreen rehabilitation is being conducted on the stucco-clad west elevation. Great care is being taken to preserve the heritage character defining elements of the building.
Project Communication
We want to work closely with our tenants to minimize the impact of this work that is needed to preserve this heritage building.
We are committed to providing regular information updates as the work progresses. Information will be sent directly to tenant contacts and will be posted on our website.
For more history on the Spencer Building , please click here.